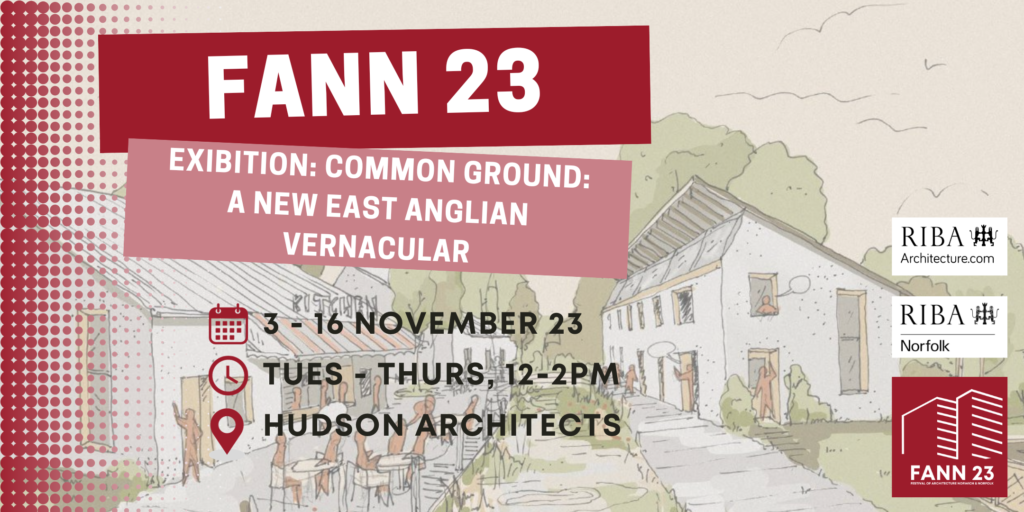 As part of this year's Festival of Architecture in Norwich and Norfolk (FANN 23) we are presenting ideas on making low carbon and community focused neighbourhoods in the more rural and suburban contexts we find in Norfolk. This is as a response to the Greater Norwich Local Plan which aims to deliver 40,000 homes between now and 2038.
East Anglia has an abundant supply of natural building materials. The exhibition will focus on new, ecologically responsible forms of construction and examine the role these materials can play in forming a new vernacular architecture against the backdrop of our climate emergency. It will also explore how building with these materials has the potential to bring new communities together through shared endeavours; finding common ground.
This free exhibition is located at our Norwich Office (37 St Andrews Street, Norwich, NR2 4TP) and is open between 3rd and 16th November, Tuesday – Thursday between 12pm and 2pm.
We are also hosting a free talk titled Common Ground: A Shared Future in Norfolk and the East on Thursday 2nd November.
Saul Humphrey (Saul D Humphrey LLP, Professor of Sustainable Construction at Anglia Ruskin University), Tom Booen and Lewis Williams (Hudson Architects) present a series of talks on sustainability, exploring themes such as low embodied carbon construction, sustainable communities, land use and ecologically responsible design, with a special focus on East Anglia and its future development.
This event is ticketed, please click here to secure your ticket!
To see more of the events available during FANN 23 please visit their website.