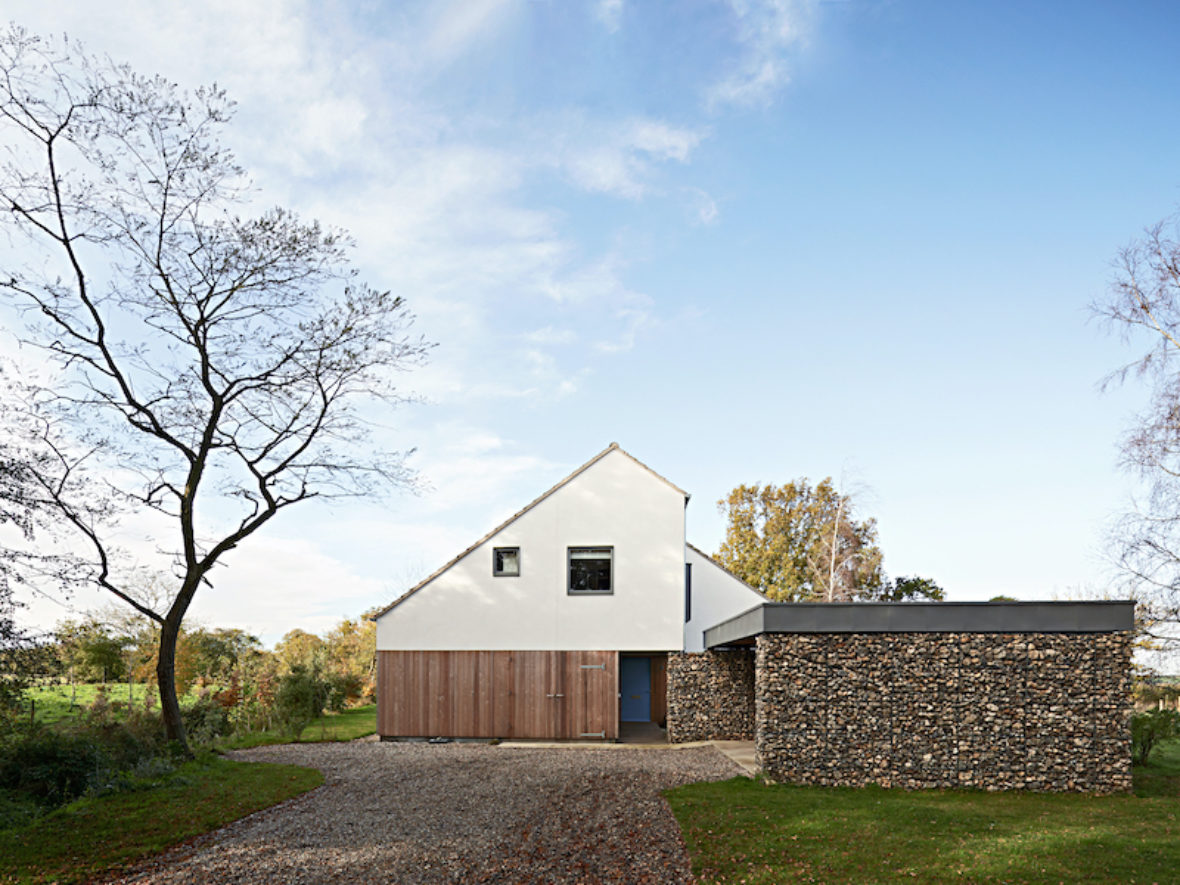 A closer look at the Eyrie, an energy efficient, contemporary family home. All in all, electricity, heating and hot water cost our clients just £1000 in the first year.
For 30 years our clients had lived in a 16th century oak-framed house in Suffolk. Though abundant in charm and character, such a building comes with all of the challenges associated with a listed property – cold, draughty and in need of continual maintenance.
When a falling-down bungalow in a nearby village came up for sale, they decided to buy it. The plot was ¼ acre and, unusually for Suffolk, situated on a secluded hillside with views across the Waveney Valley.
The brief: A sustainable eco home
In short, our brief was to design a highly-efficient 3 to 4 bedroom eco house that blended in with its environment and used as many renewable energy systems as possible. Though the clients were downsizing, they wanted a home that maintained a sense of space, one they could enjoy equally as much with their friends and grown-up children as they could just the two of them.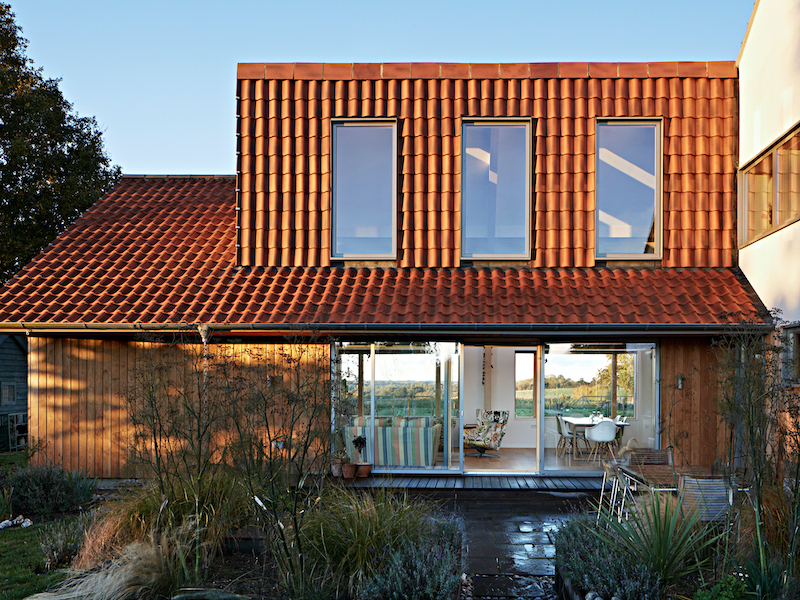 Planning permission for an eco house
Planning stipulated that the form of the building and use of materials should reference the context of the area – albeit used in a contemporary way. When presented to the Parish council, the designs were met with an overwhelmingly positive response. The only element they were not keen on were plans for a metal roof which was swapped for red pantiles.
An 'eyrie' is a high lookout that offers views across the landscape below. Large windows throughout the property frame outstanding views. The main living areas – kitchen, dining, living area – are open plan, with the steep pitch of the roof creating an immense sense of height and volume.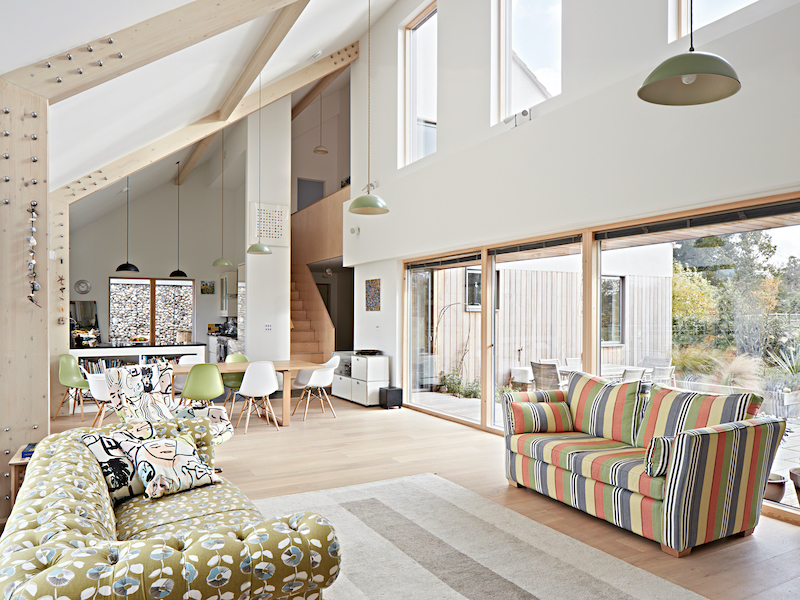 Sustainable Architecture with a Prefabricated Design
Natural and sustainable materials were used whenever possible. By choosing a prefabricated timber-frame we were able to minimise material waste and maximise air tightness. The frame was highly-insulated in order to reduce internal temperature fluctuations.
The building was positioned to make the most of natural light and maximise solar gain from the south. The south-facing roof elevations host an array of 2.3kW PV cells and solar tubes to provide heating and hot water, whilst underfloor heating is connected to a ground source heat pump. Deep eaves were constructed over the veranda to prevent overheating in summer whilst maximising penetration of natural light through winter.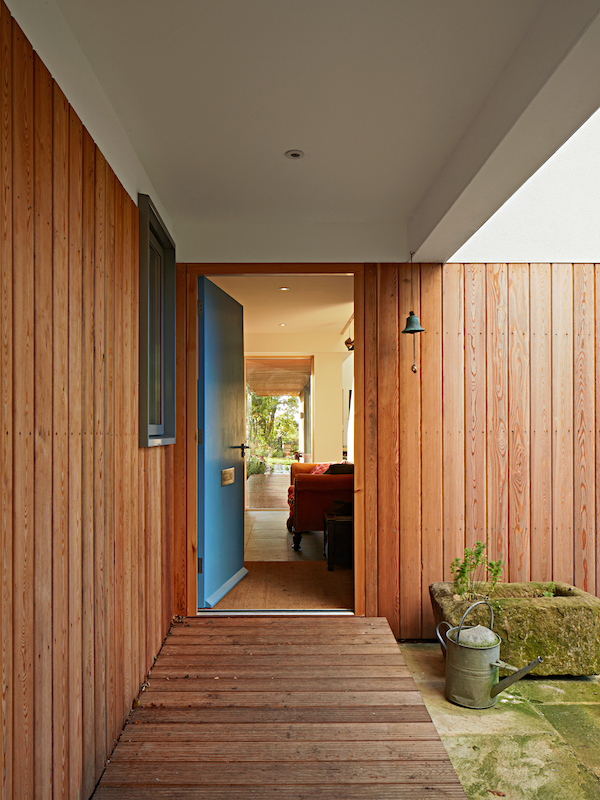 Building a low energy home
Externally, a combination of lime render, clay pantiles and larch timber cladding created a look reminiscent of a Suffolk barn. The garage, built from reclaimed flint with a sedum roof, provides shelter for a terrace with an outside kitchen – ideally positioned to enjoy the views.
A rainwater collection system provides water for the toilets and washing machine. In winter, a HETAS-approved wood burning stove acts as a secondary-source of heat on the coldest days. All in all, electricity, heating and hot water cost our clients just £1000 in the first year.