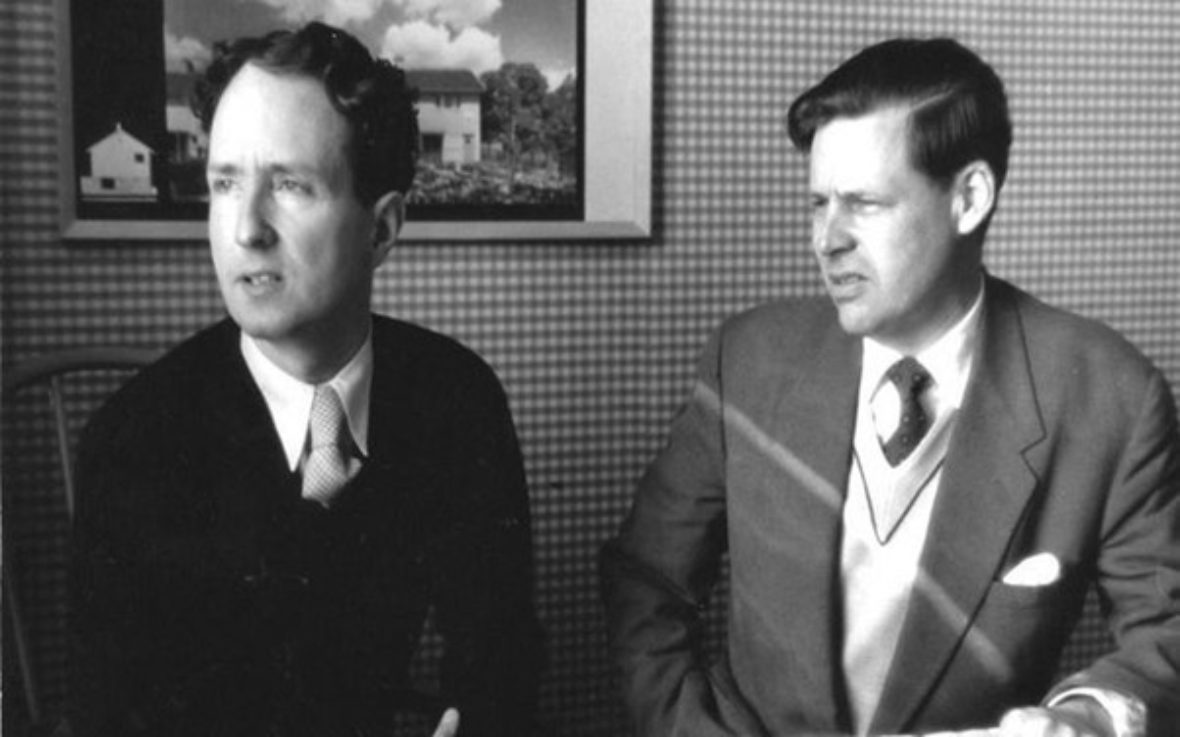 Herbert Tayler (1912-2000) (left) and David Green (1912-1998). (Image from 'Tayler and Green Architects 1938-1973: The Spirit of Place in Modern Housing')
As a contribution to Rural Housing Week we thought we might point you at a series of posts by our Head of Housing Matt Wood about Norfolk's under-sung architectural anti-heros Tayler & Green, who designed over 600 council houses for Loddon Rural District Council during the 1950s. Read the introduction to the series below and find the full series on Matt's blog Ruralise.
If you live in Loddon, or any of its neighbouring villages, you will be almost certainly be familiar with the work of Tayler and Green: short runs of mid-C20th terraced houses, with low-pitched roofs, often in pastel-painted brick, sometimes with patterned brickwork or fret-cut barge-boards on the gable.
But if you are not local, it is unlikely you will have ever driven around this hidden-away part of south Norfolk, which lies east of the Norwich to Ipswich road and is bounded to the north, east and south by the Yare and Waveney river-valleys.
Were you to drive across the gently rolling plateau on the A146, the only main road which bisects it, from Norwich to cross the Waveney at Beccles, you would flash past some Tayler and Green Houses at Thurton, probably without noticing them – and unless you lived nearby you would have little reason to turn off the main road. East of the A146 the only routes out of the area towards Great Yarmouth are across the river at St.Olave's Bridge or on the remote and atmospheric Reedham Ferry.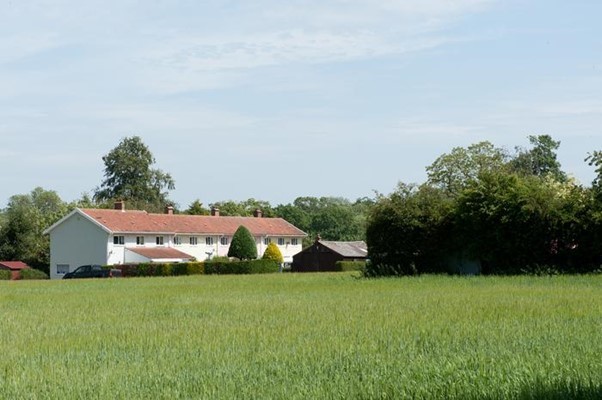 Photo: Jim Stephenson – www.clickclickjim.com
The geographical isolation of Tayler and Green's work for the Loddon Rural District Council (over 600 council houses, built between 1943 and 1973) might be part of the reason it is not better known, despite being highly acclaimed in its day.
Perhaps it also has something to do with their decision to turn their back on early critical acclaim in London. Working at such a distance from the capital, their architecture developed to embrace themes and techniques which the urban-centric generation of architects that followed them – the New Brutalists – would come to revile: pitched roofs, decoration, applied colour, domestic privacy.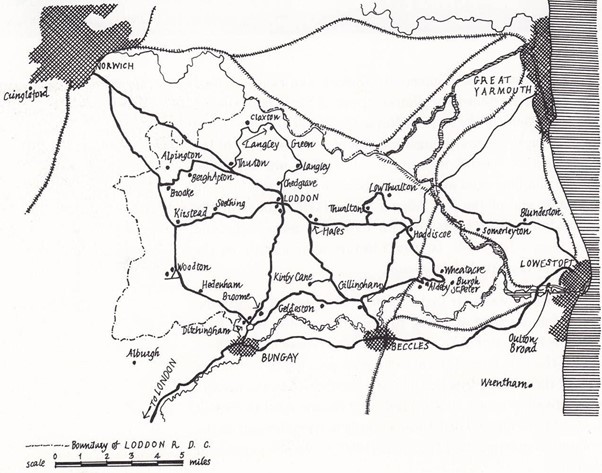 Map from 'Tayler and Green Architects 1938-1973: The Spirit of Place in Modern Housing'
But this same geographic isolation, and the way their work evolved rationally from mainstream Modernism, make it a rare and important example of the 'Critical Regionalism' which Kenneth Frampton discussed in his 1983 article. And as a protracted meditation on how we should build ordinary new houses in the countryside, their work has much to teach us about how we might respond to our own present-day housing crisis.
READ 'PART 2: SOLID FOUNDATIONS' HERE