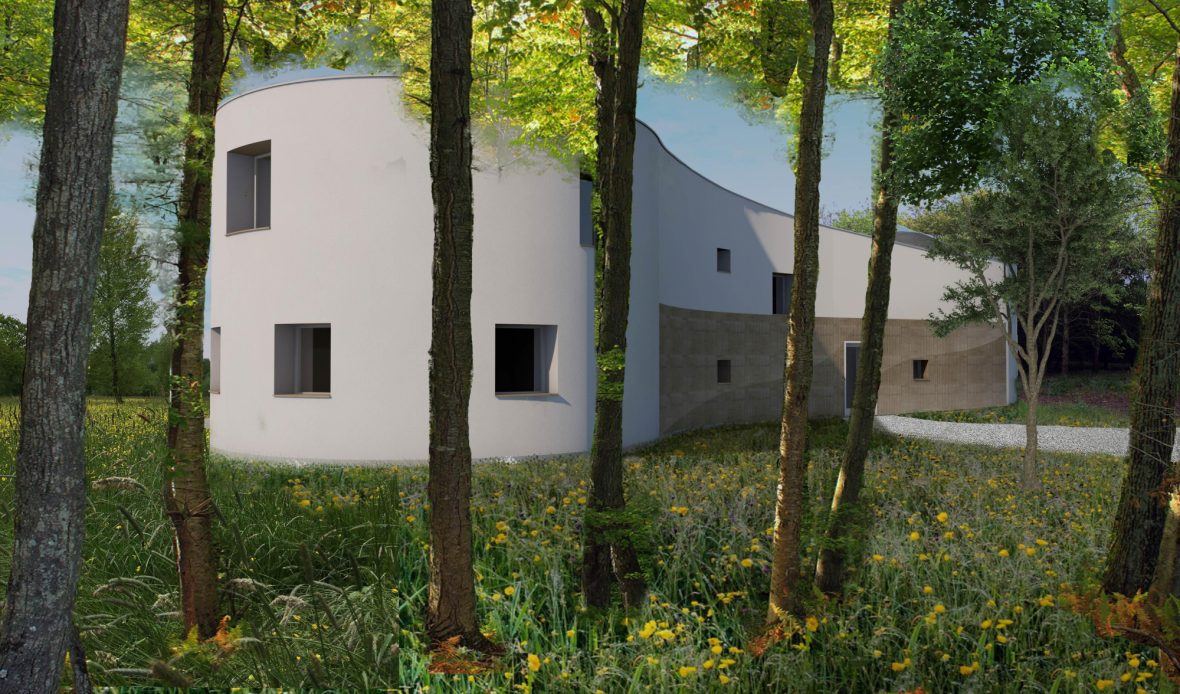 Hudson Architects secured planning consent  for "Hemp House" under what was formerly Paragraph 79 – and is now Paragraph 80!
In 2019 Hudson Architects secured planning consent for a Paragraph 79 (Now Para 80!) rural home in Foulsham, Norfolk. The low energy house will be built using hempcrete – an innovative material using locally grown hemp that offers thermal efficiency while avoiding the need for substantial concrete foundations.
The house is sited on a large woodland plot, and has been conceived as a low-impact home that will allow the site to remain a valuable wildlife habitat. Locally sourced materials will be used as much possible: the hemp is being harvested locally in west Norfolk, where it is grown as a very efficient and sustainable break crop within the arable rotation cycle. Locally sourced timber will be used as a roofing material and for external cladding, while clay extracted from the site will be used for internal flooring and plaster rendering for some internal walls. In keeping with Hudson Architects' stated aim to reduce embodied carbon, a timber deck with screw piles has avoided the need for a carbon-heavy poured concrete slab.
Hempcrete, or 'hemp-lime', is a medium density natural insulation material produced by mixing hemp with a lime binder to provide extraordinary thermal properties and sound sustainability credentials. The hempcrete is cast around a structural timber frame, which is then left to dry for several weeks before an external finish is applied. At Hemp House, the predominant finish will be lime render, with cordwood grown on site used to clad the southern elevation.
The house is entered from the north, where two tall drums emphasise the curvaceous form of this elevation. The more private areas of the house – including bedrooms and retreat spaces – are arranged along the northern edge of the plan, which opens into a large open plan kitchen and living area overlooking large outdoor terraces and the landscape beyond. In contrast with the lime render used elsewhere, timber cladding to the southern elevation emphasises its more informal character, and sits beneath an extensive green roof. The domed tower roofs are clad in timber shingles above an innovative reciprocating roof structure: a lightweight arrangement of locally grown timber that avoids the need for a ring beam yet is sufficiently strong to support a large rooflight at its centre.
Anthony Hudson, Director at Hudson Architects, said:
"Hemp House will be an exemplar of how innovative construction techniques can be applied in a contemporary way – both to meet current building requirements and to showcase the beauty of the materials. Achieving consent for a Paragraph 79 home is an achievement in its own right – we're therefore delighted to have done so while pioneering low impact construction techniques that many others can learn from."