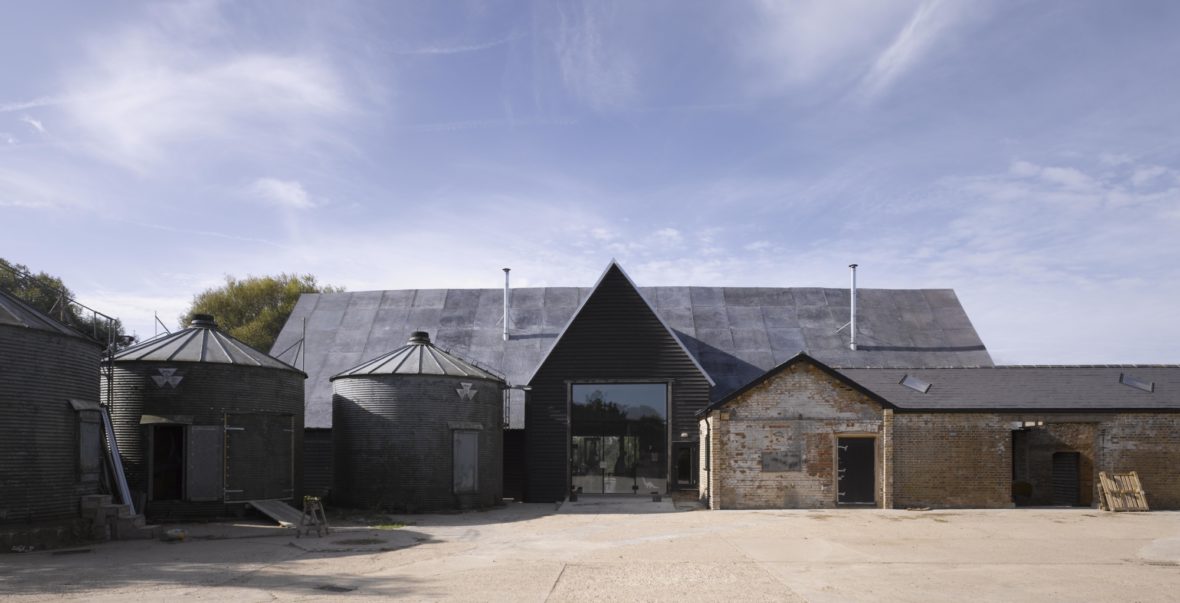 A Grade II listed barn conversion built on principles of conservation, reuse and repair.
The relationship between design and making is fundamental. Woven into this equation is ensuring we value our resources – both material and human. It is therefore important in a world of diminishing resources that we place more emphasis on thoughtful application and invention that in turn puts a high value on the way we work.
This was the central focus for the conversion of Feeringbury Barn into a home and workplace. How do you make the most of a lovely but dilapidated sixteenth century timber-framed barn with all the accretions that have occurred in its lifetime and how do you value the workmanship that goes into it?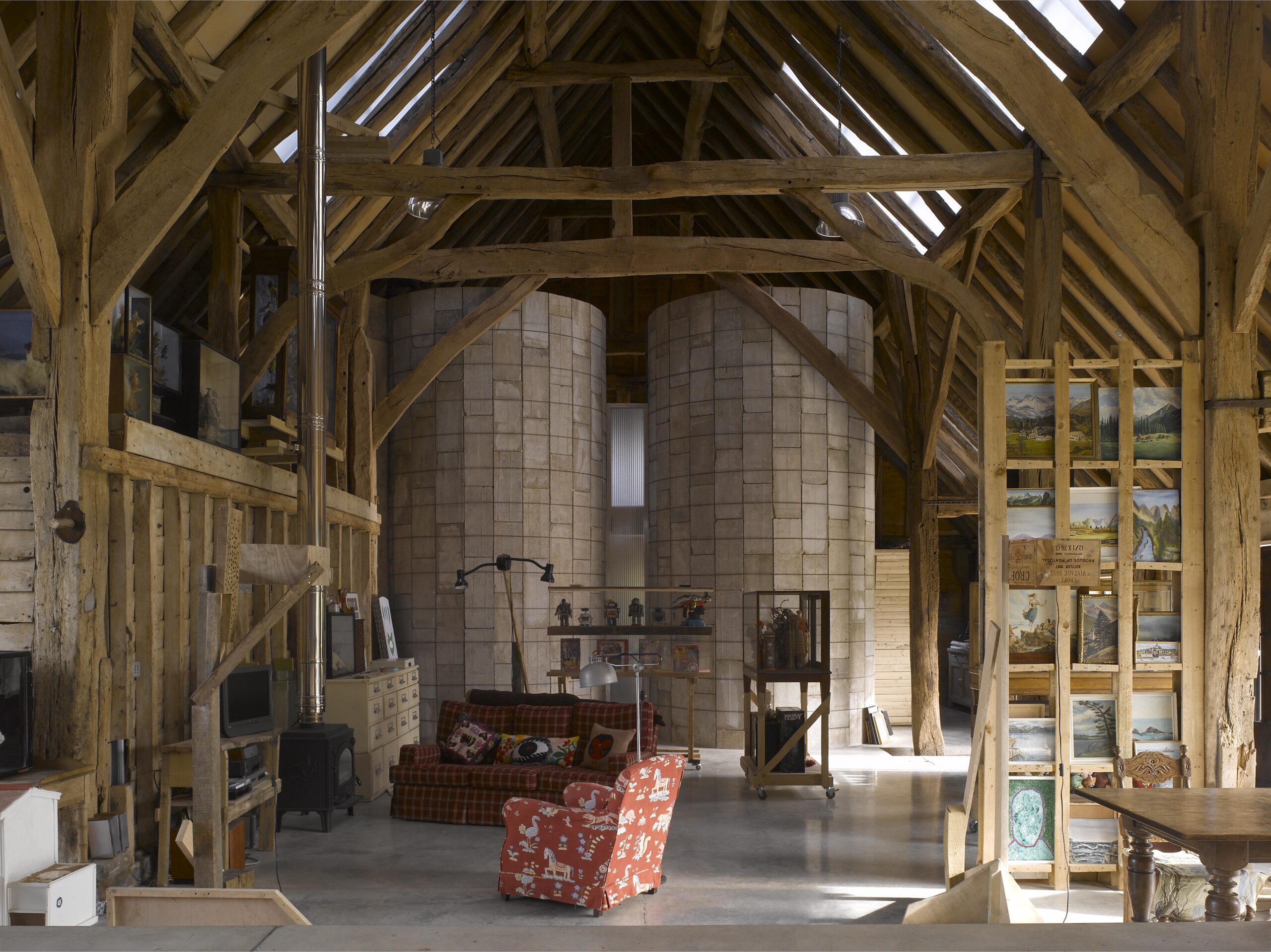 A Barn Conversion That Retains its History
The Barn had lost its original purpose as a store of grain and equipment. Nonetheless, the remnants of that history littered the building inside and out: Externally corrugated sheet silos, redundant out-buildings, a Dutch barn and, inside, 1950's precast concrete silos and numerous bits of old machinery. Wherever possible all this was to be recycled, given a new life and celebrated. Whereas others might have strippped away the modern accretions and sanitised the buildings, the owners wanted to keep the unbroken history.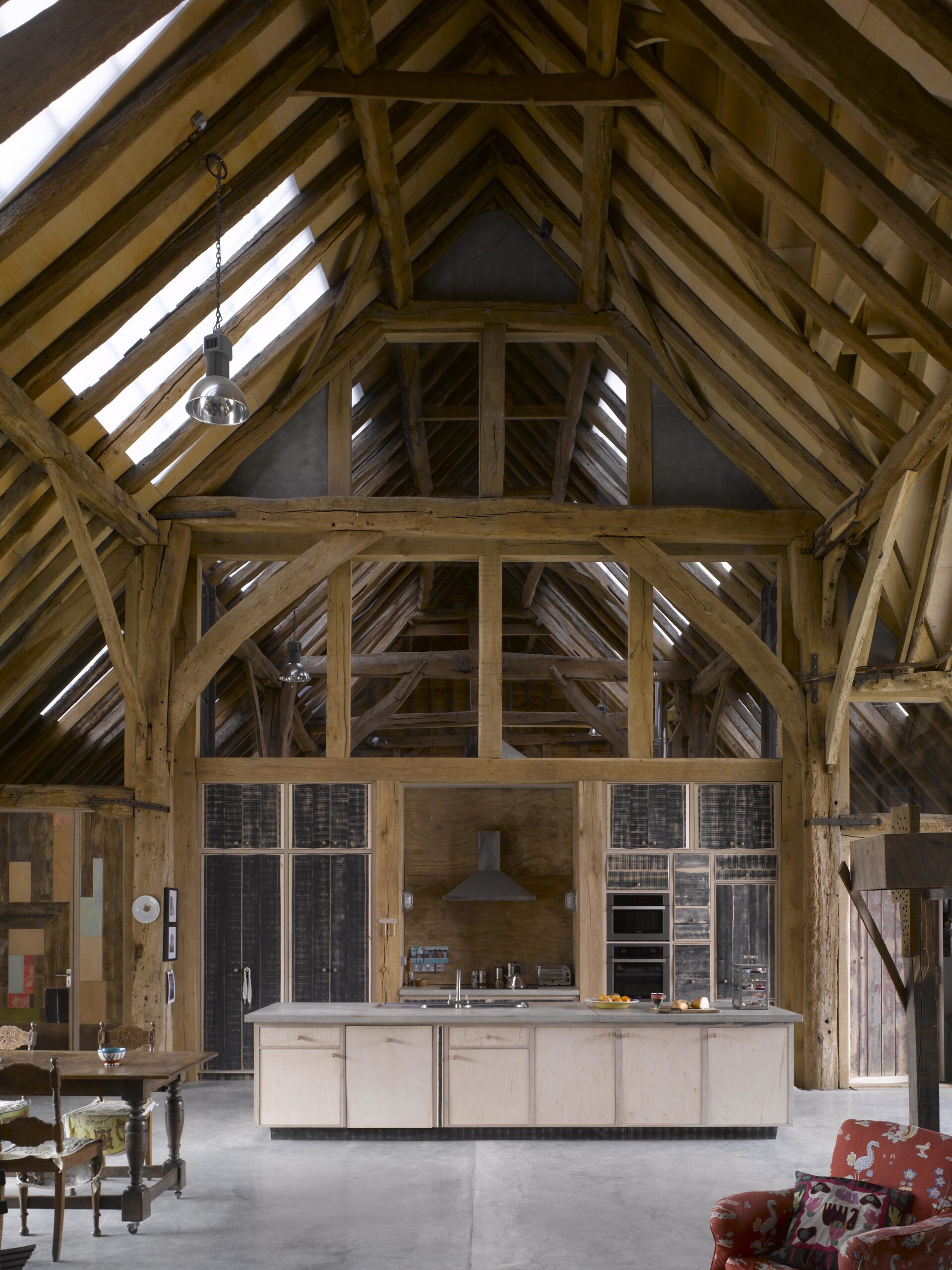 Grade II Listed : Planning Permission
As with any barn, the secret is to maintain the simplicity of form so as not to undermine its integrity. Being Grade II listed and a spectacular oak framed structure (if not a little rotten), the local conservation office was adamant that no rooflights should be visible in the roof and that no new openings, other than those already made, should appear in the walls. This had thwarted all previous attempts to get listed building permission for a house conversion so a roof covering was devised that appears to have no rooflights yet floods the cast interior with natural light.
The secret was to use an expanded metal mesh that sits above large rooflights. This acts as louvers, allowing light into the buildings from above whilst obscuring all views of glazing from ground level. The mesh came in galvanised sheets that were 'T washed' to give them a darker tone. The overall effect was remarkably similar to the previous bitumised roofing.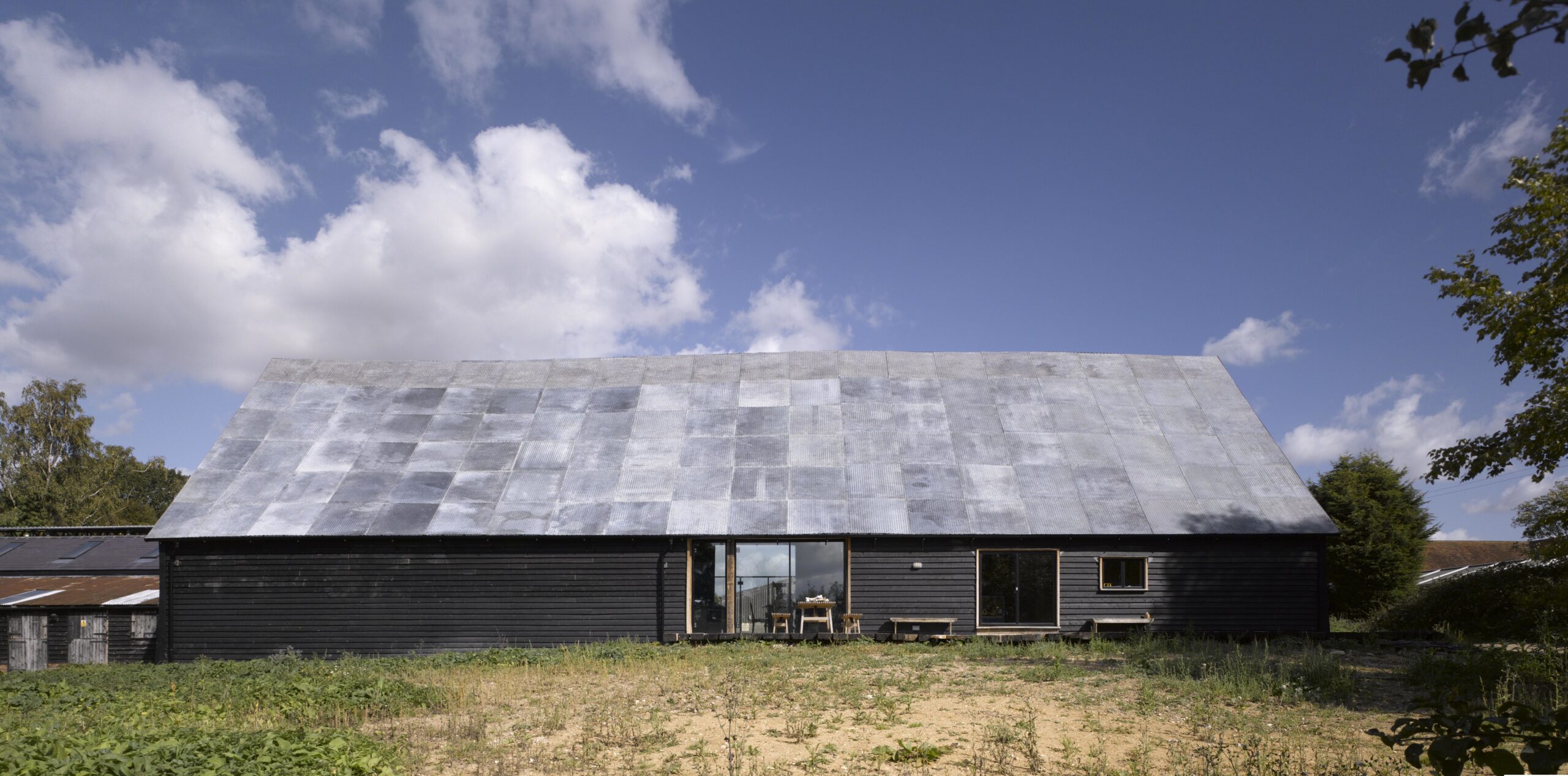 Architectural Reuse, Conservation and Repair
Reuse of everything, from the large to the small scale, was an essential part of the project. Two of the internal concrete silos were re-erected to screen bedrooms from the main space with enclosed bathrooms and a spiral staircase. The external corrugated steel silos were adapted for guest accommodation. Parts of the Dutch barn were reused to strengthen a full-height glazed screen wall that separates living space from studio space. At the minute end of the scale, all hardwood off-cuts from timber repairs were used as a sculptural fire stopping between floors.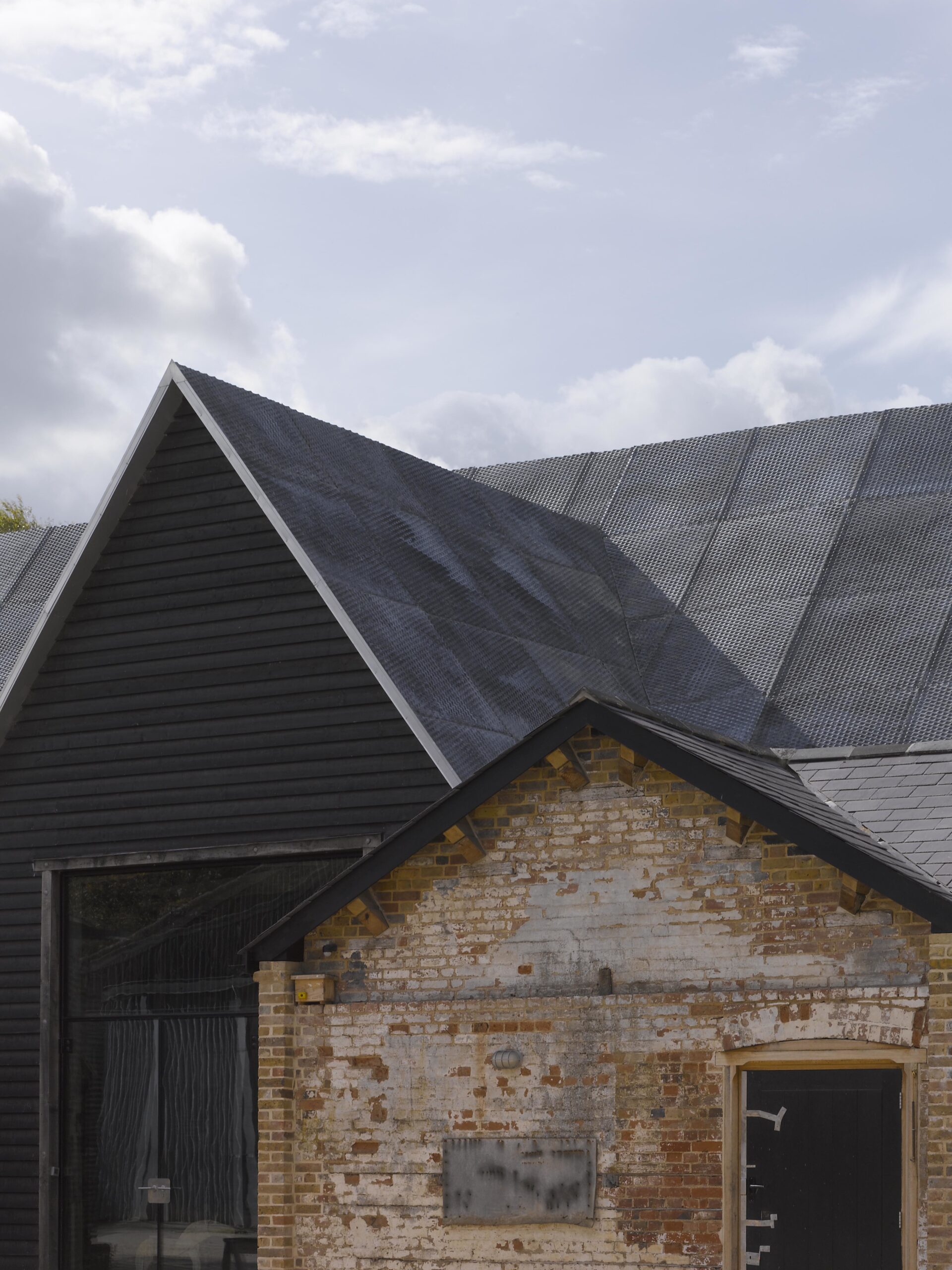 The overall approach to restoration was a mixture of straightforward conservation and repair to the timber structure mixed with homespun interventions using disused bits of machinery and metal work. It is a time-honoured idiosyncratic tradition and the way a farmer might repair a barn in their often 'ad-hoc' way. By applying intelligence, economy and imagination, it has led organically to a highly-crafted and special building.
This blog was redacted from "An Open Mind: The work of Hudson Architects" with words written by Anthony Hudson and published by Artifice. The book can be purchased by clicking here.
Photography by James Brittain,.