As lockdown restrictions end, construction is underway again!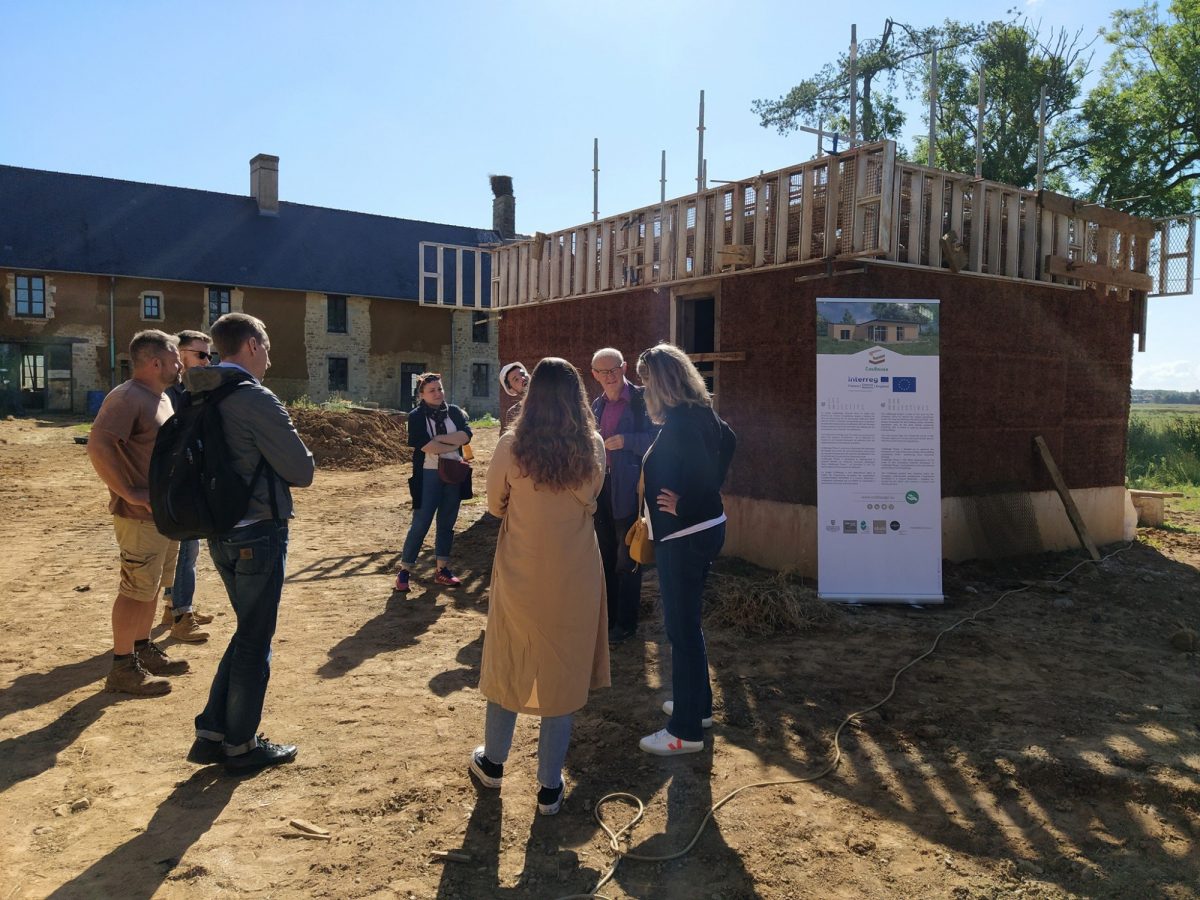 As lockdown restrictions end, construction is underway again!

With the world on lockdown to try and stop the spread of COVID 19 CobBauge, like so many things, has had a pause. We hope you, like us, followed the advice and were all able to stay safe and well.
Although slightly behind schedule, we are now beginning to get underway again. Our French partners have managed to restart construction on our CobBauge prototype, and they have put in a huge effort to bring it to the stage it is now. Wearing masks under a hot French sun and sticking to social distancing rules they have got the prototype to over 2 meters in height.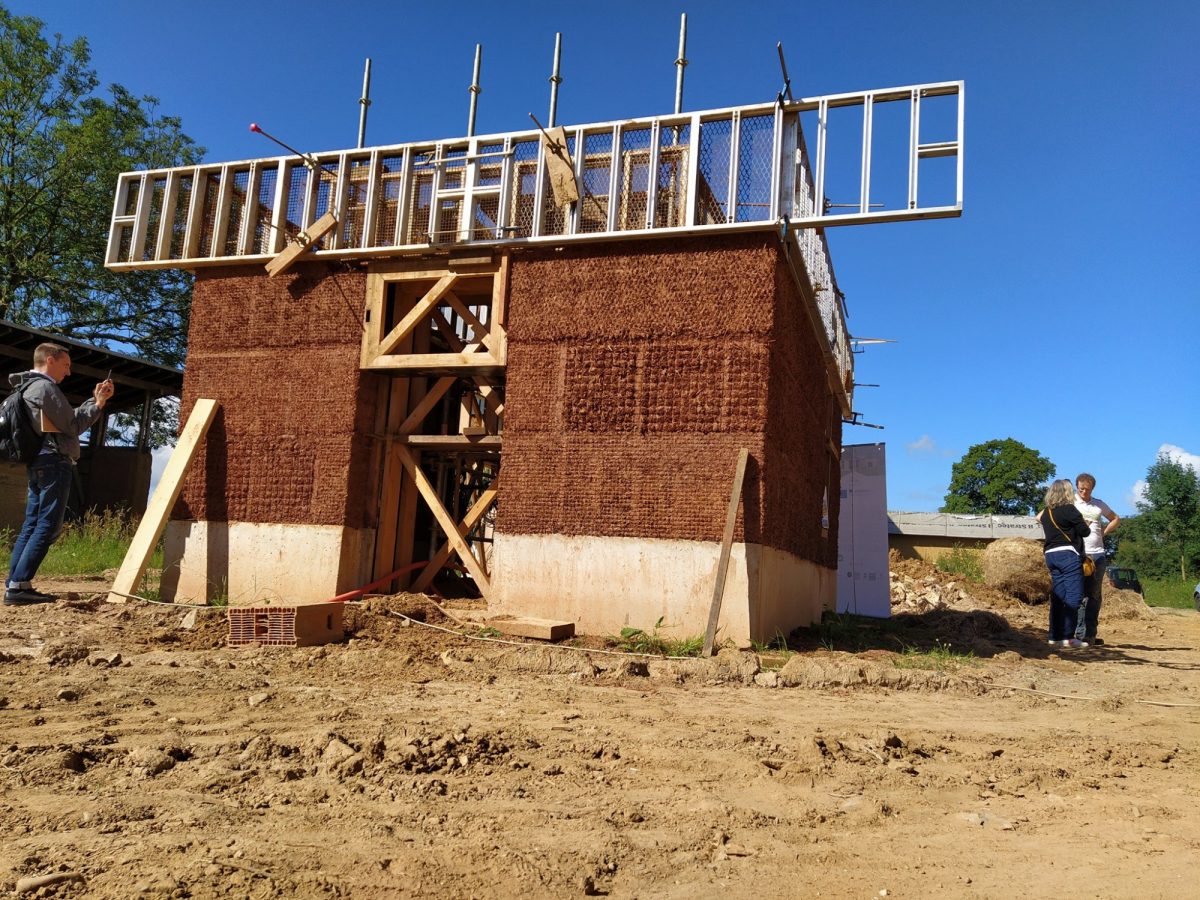 The photo above shows the concrete plinth they're working from as well as three 'lifts' of CobBauge. These 'lifts' are around 700mm each with each sitting directly on top of the next, the earth materials bond with each other creating a monolithic construction.
To create the lifts, a formwork is used initially consisting of aluminium box section with a wire mesh attached on one side. Additional timber formwork is used to bridge smaller gaps or to go into areas that the aluminium sections are too big for. Using the aluminium section where possible means that the formwork can be set up exactly where the drawing state and it won't bow or move, which could happen with larger areas of timber formwork. The aluminium is also robust, resusable and won't warp or distort the way timber formwork would.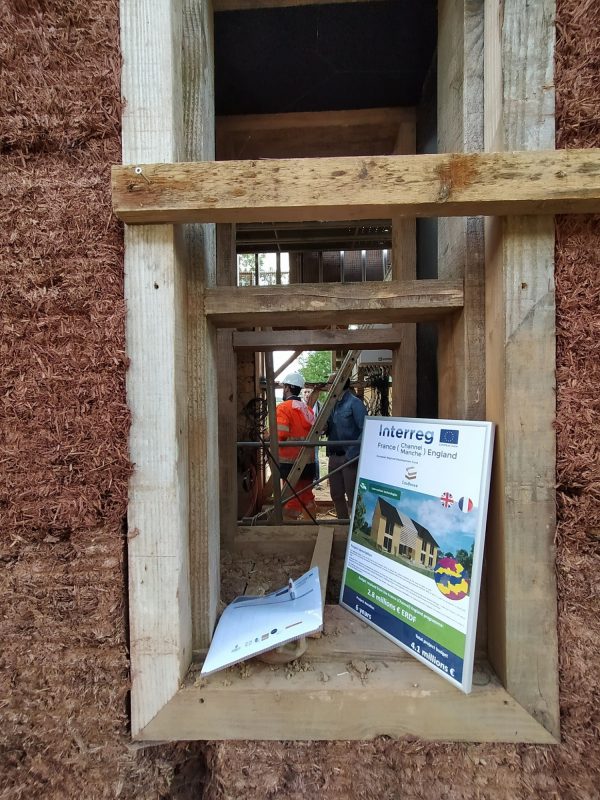 For openings such as windows and doors a timber frame is created as shown above. This is removed when the external weather proofing is applied before the windows are installed. The keep eyed among you will have noticed the gap at the bottom left of the aperture. The bottom lift was built in October 2019 and was covered over to protect it until the spring. With heavy rains over the winter this area had serious water ingress and all the water that got onto this area flowed past this part of the window. The damage is to the lightweight insulation layer only and because CobBauge is earth based it is simple to mix some more. This does not just patch the hole as it would in concrete, the mixture will bond with the existing wall and become monolithic just like the rest of the building creating a seamless repair that will have no weakness.
The French team also had a media event to celebrate their progress which was a great success as can be seen in the top photo. François Sterrif from PrnMBC and Aureli Gérault from ESTIC did a wonderful job of explaining both the project and the building.