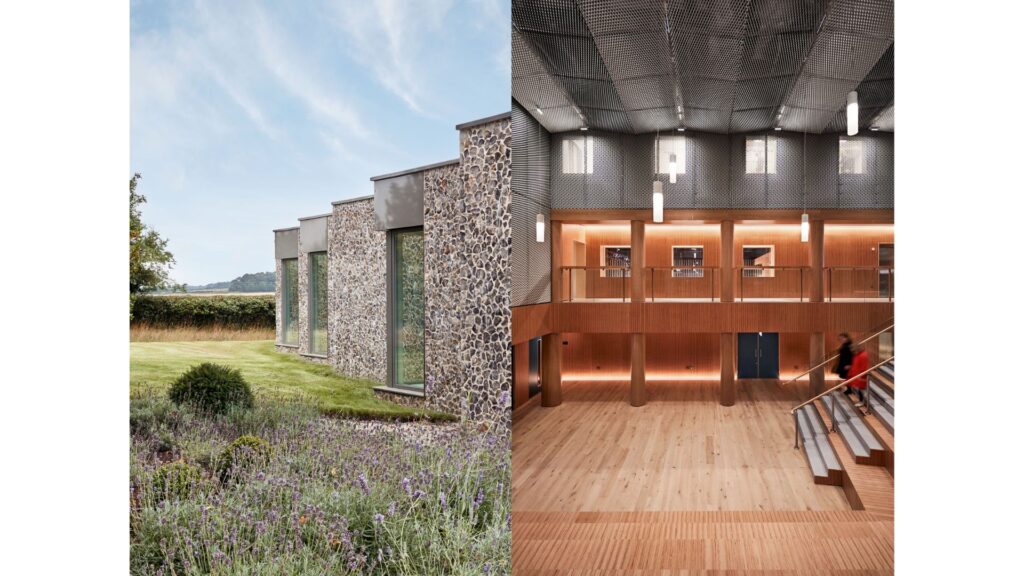 Yesterday evening we were delighted two of our projects, Coast House and Duke Street Riverside won an RIBA East Award!!
Both Coast House and Duke Street Riverside continue our distinctive design approach in making buildings environmentally responsible and rooted in context.
Coast House, located in North Norfolk, responds subtlety to its context; a zig zag knapped flint wall, reminiscent of crinkle-crankle garden walls buffers the house from the adjacent road and encloses a tranquil garden. The beautiful iridescent quality of knapped flint, quarried and used locally, is framed by light weight corten steel which refers in colour and texture to Norfolk red brick.
The house orientated according to environmental principles, is passively as well as actively sustainable. The building fabric is highly insulated and air-tight to an exemplary standard employing Passivhaus technologies such as twin stud timber frame, triple glazing and an insulated raft slab. Solar panel, battery storage and an air source heat pump support the energy requirements of the house, with an MVHR system ensuring excellent ventilation and indoor air quality for our clients.
The jury's commentary:
"Beautiful materials, immaculate detailing and excellent workmanship wrapped around strong sustainable credentials…"
"…this is a house that is deeply informed by its site and the local architectural context, without being traditional in any way."
Read the full jury's commentary here
Duke Street Riverside – Norwich University of the Arts' flagship building on the banks of Wensum in central Norwich – contains a series of flexible teaching spaces, a 300-seat studio theatre and 100 ensuite student rooms.
Reference to the history of the site (the Barnard, Bishop and Barnard ironworks) has been literally woven into the construction and detailing of the building. This can be seen in the metal mesh that lines the interior of the foyer fulfilling a multitude of functions by allowing natural ventilation, acoustic treatment, visual screening of services and lovely intriguing textured surface.
Carefully designed natural ventilation and solar shading systems contribute to a robust sustainability strategy, alongside an MVHR system to maintain the air quality of the air-tight building.
The jury's commentary:
"Hudson Architects' strong addition to Norwich adds vitality to the local area, promotes the University of the Arts and gives student engaging and characterful accommodation".
"Much thought has clearly gone into the way the building responds and contributes to its context. It does this through its massing, the composition of its brick and metal facades and the way in addresses the street, the river and the new public space it frames".
Read the full jury's commentary here