Barn conversions stand as a testament to architectural adaptability; turning traditional agricultural structures into functional spaces for a range of uses. Over the years, our team has embraced the challenge of preserving the character of these iconic rural buildings, while repurposing them for contemporary needs.
Situated in idyllic rural landscapes or pretty villages, our barn conversions tell individual stories of reinvention. We've selected six of our most loved barn conversions to look back on, demonstrating our dedication to preserving history, combined with a modern aesthetic. These transformations honour the original features of the barns while incorporating contemporary elements for comfort and style.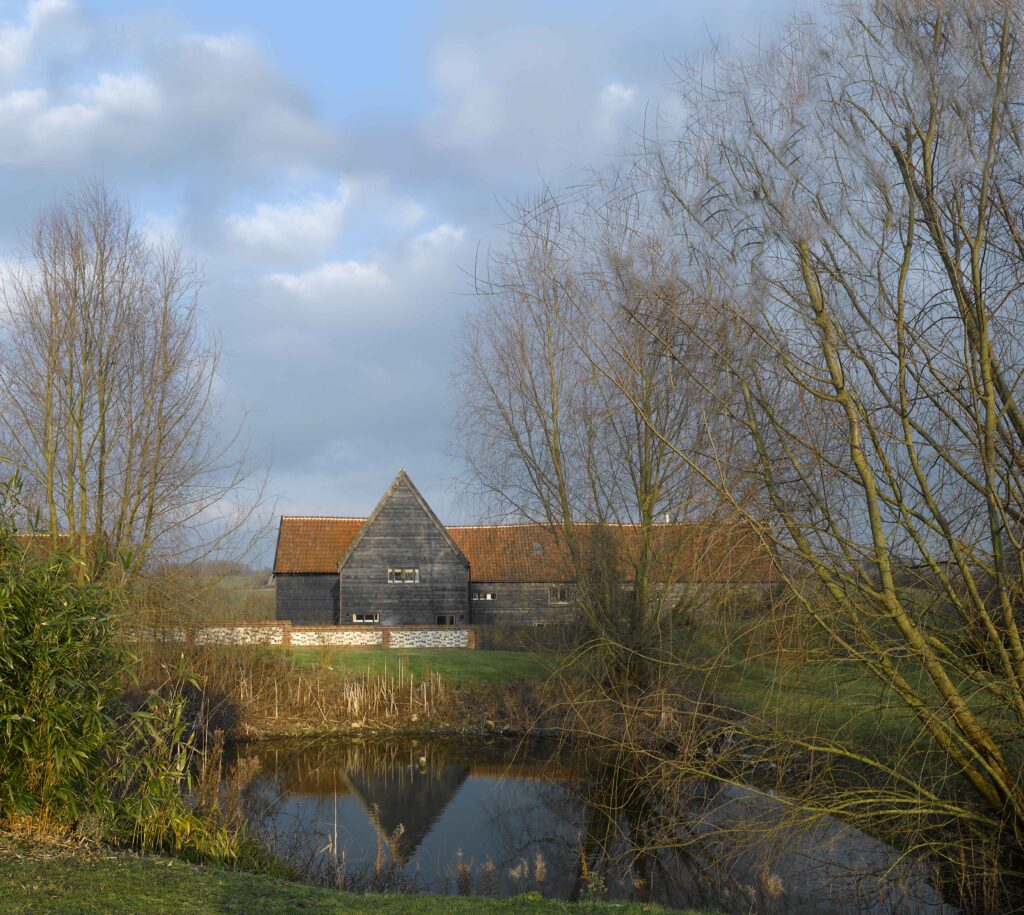 Tucked away in the landscape of Suffolk, Chantry Barn, a Grade II listed timber framed structure, had been largely forgotten and showing signs of disrepair.
The barn's inherent charm lay in its straightforward, utilitarian design with large, uncomplicated internal spaces. Our challenge was to convert these expansive volumes into a practical family home, all while retaining its original identity.
Externally, we aimed to preserve the barn's essence. A new entrance replaces a lean-to extension, keeping changes minimal. Inside, two imposing volumes, each within a barn section, unveils the historic timber frame against clean plasterboard. The Upper Barn houses a master bedroom gracefully suspended above kitchen islands, while an angled wall leads down to the Lower Barn's sitting room with its freestanding dark-grey plaster-clad fireplace.
The play between old and new forms a clear narrative, embracing scale and connection. Breathable construction preserves the timber structure while enhancing the dialogue between eras. Raw timber framing contrasts with smooth lime plaster, glossy panels, and limestone flooring.
The 'old versus new' concept is referenced through three key decisions: to contrast the inside from the outside appearance, to exploit the large volume of space within the building, and to emphasise the texture of the historic timber frame with careful detailing and clever material choices.
Take a closer look at Chantry Barn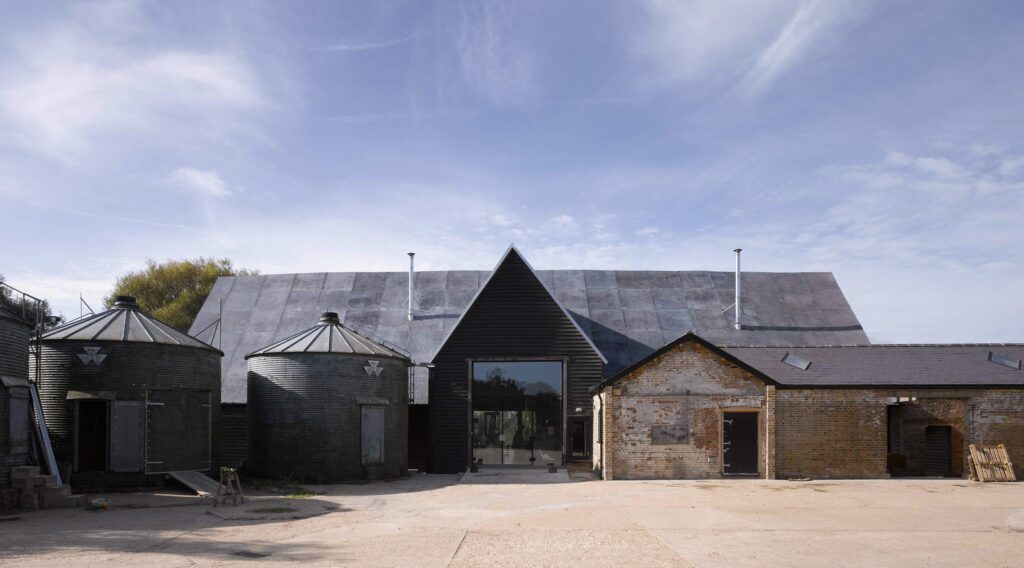 Feeringbury Barn, a Grade II listed structure on an isolated working farm in Essex, has undergone a transformative journey into a large home and artist studio, representing a radical departure from traditional barn conversions.
Dating back to 1560, the timber-framed barn had lost its original thatched roof over time. Our vision for the scheme was to retain as much of the original fabric as possible, while introducing a contemporary twist.
The highlight of the conversion is the unique new roof, concealed beneath an expanded steel mesh. This design feature incorporates sizable polycarbonate rooflights that usher in daylight, seamlessly marrying the conservation officers' demands for no visible rooflights, with the client's ambitions for a light-filled space.
Externally, timeworn cladding was replaced with sleek black weatherboard, while within, almost all the original timber-framed structure has been retained and repaired. Reclaimed timber is used for panelling and former concrete silos have found new life as private spaces. This approach to reuse resulted in a highly sustainable scheme, which also boasts a woodchip boiler using local fuel sources, saving an estimated 56 tonnes of carbon every year.
We worked closely with the client on this scheme, who acted as design collaborator and project manager. At its core, this scheme is a labour of love and a true testament to the power of collaborative design.
Watch Feeringbury Barn's transformation on Grand Designs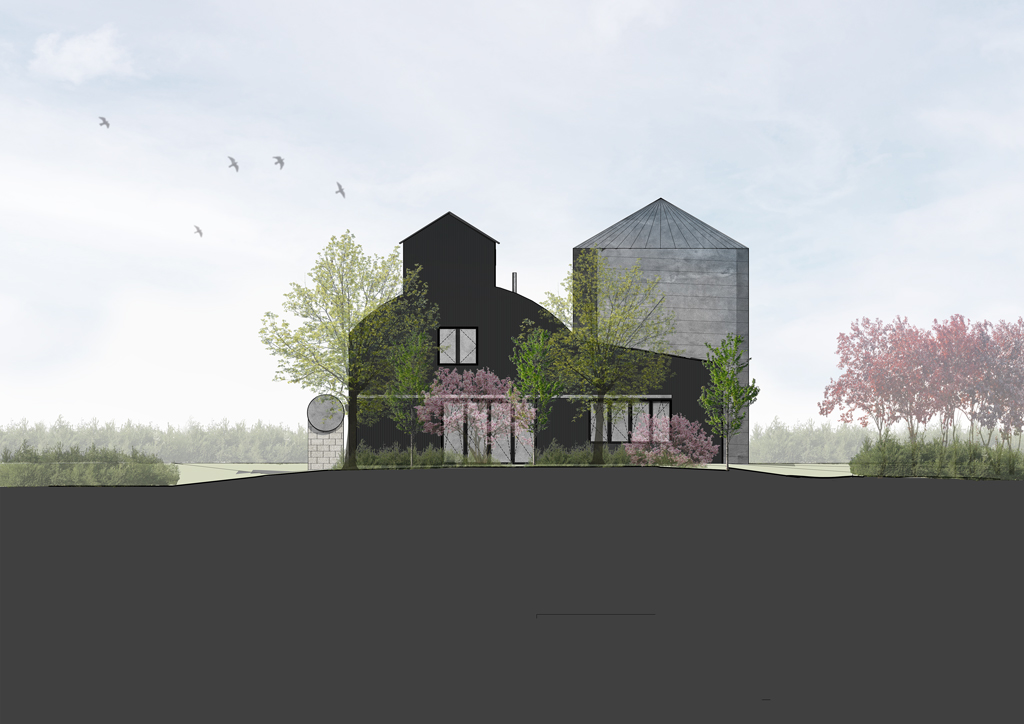 Dutch Barn, Essex
Dutch Barn, a redundant barn and silo tucked away in rural Essex, has been granted planning permission and will now undergo a transformation into a beautiful home that blends sensitively with the building's agricultural history.
Plans for the new home are ambitious, as always with sustainability front and centre, with a fabric-first approach at the core. Photovoltaic panels will be placed on the lower lean-to roof and passive shading will be provided through recessed terraces to avoid overheating in the summer. During the winter months the lower angle sunlight will pour through the terraces to allow for ample solar gains.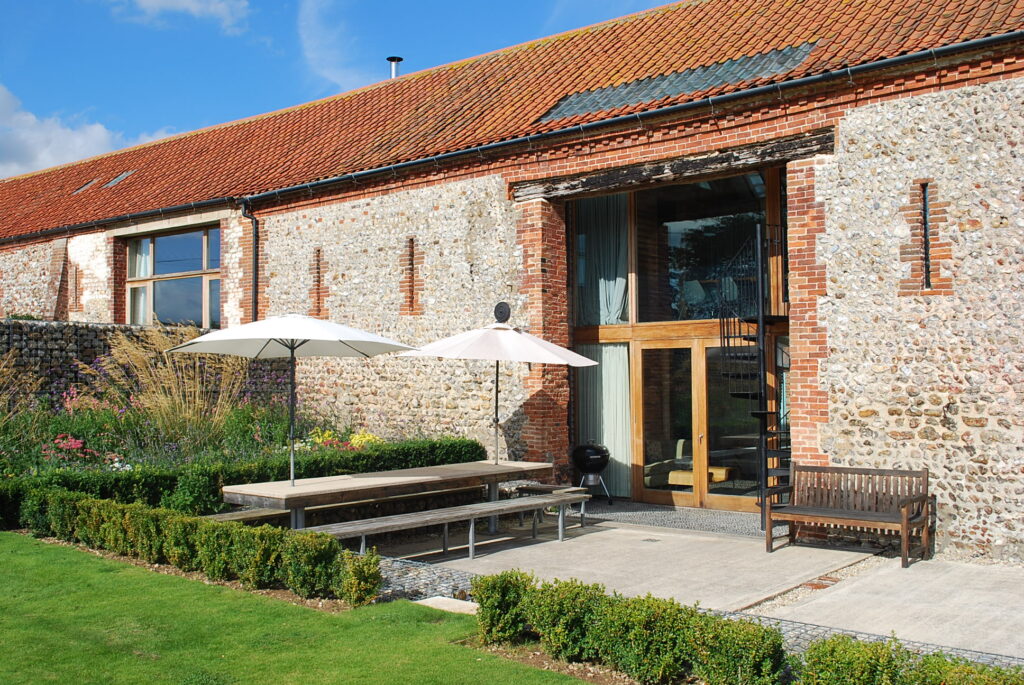 Barsham Barns, a collection of agricultural structures, have been reinvented as an enclave of holiday lets in rural Norfolk.
Situated in East Anglia, this extensive quadrangle of buildings, featuring a threshing barn and granary, dairies and animal sheds, stretches across centuries – from the mid-18th to the early 20th. Purchased with holiday accommodation planning permission, these structures now house five holiday cottages accommodating up to 48 guests.
The barns' textured shells have been thoughtfully exposed, showing a rich palette of materials: brick, flint, chalk, terracotta tiles and timber beams. Internally the exposed elements are complemented with antique and contemporary furnishings.
The transformation balances modernity and comfort, while paying homage to the barns' historical context.
Read about Barsham Barns in the press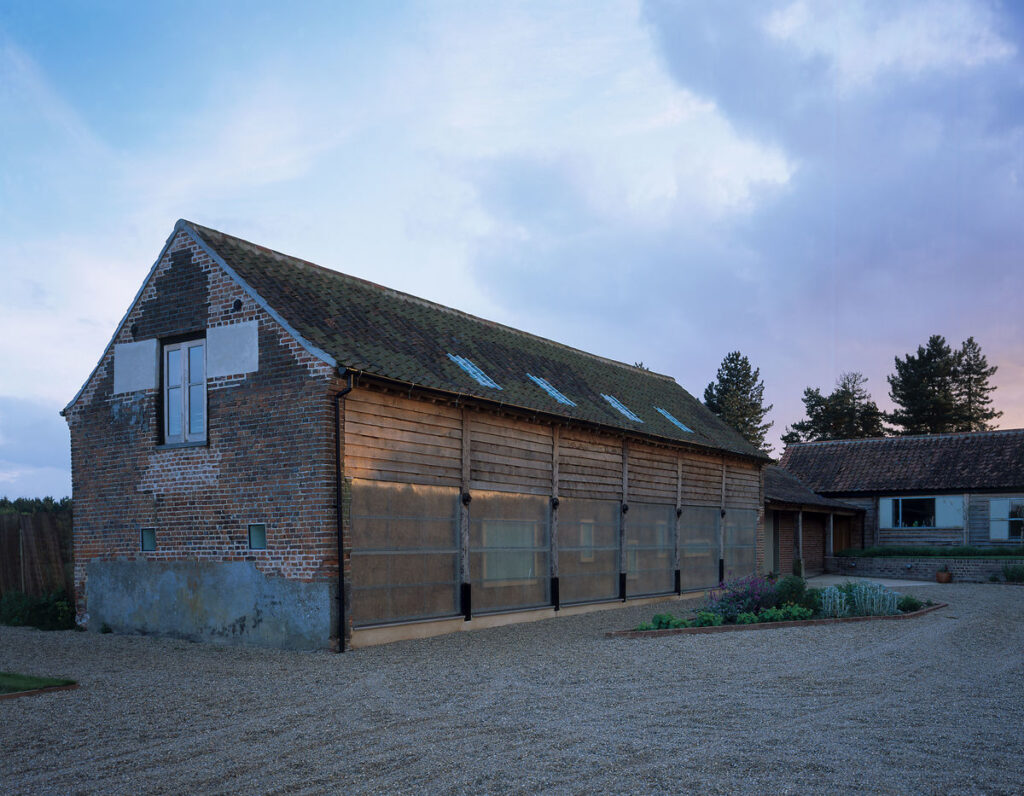 Quaker and Hall Barns, once part of a larger complex of 19th century farm barns, have undergone a sensitive transformation into self-catering holiday accommodations. The construction process embraced local resource and married tradition with innovation.
The scheme took an organic and flexible approach. Minimal drawings, aside from floor plans, were produced, to allow the conversion to adapt to changing circumstances – each detail unfurled as circumstances dictated, embracing unknowns and optimising materials to suit.
Hall Barn, a two-storey, oak-framed, open bay cart shed with a grain storage loft, underwent a dramatic evolution. The north-facing open bays were filled in, and south-facing brick walls opened up to take advantage of the view. The bays were infilled using straw bales which, once treated against insect infestation, were easily installed in panels between the oak posts and pinned together with steel rods.
The barns epitomise minimalism and elegance with simple forms and minimal openings that retain the structure's 'barn' qualities that are so often lost during conversion. Glazed pantiles, a common feature in Norfolk barns, crown the roofs. Windows inspired by Landrover slide within steel tracks, combining function and aesthetics.
Undeterred by non-standard alignments, these structures were designed to accommodate imperfections, weaving available materials, tools, and skills into their design. Through this journey, Quaker and Hall Barns stand as contemporary sanctuaries, their transformation a harmonious blend of tradition and innovation.
Read about Quaker and Hall Barns in the press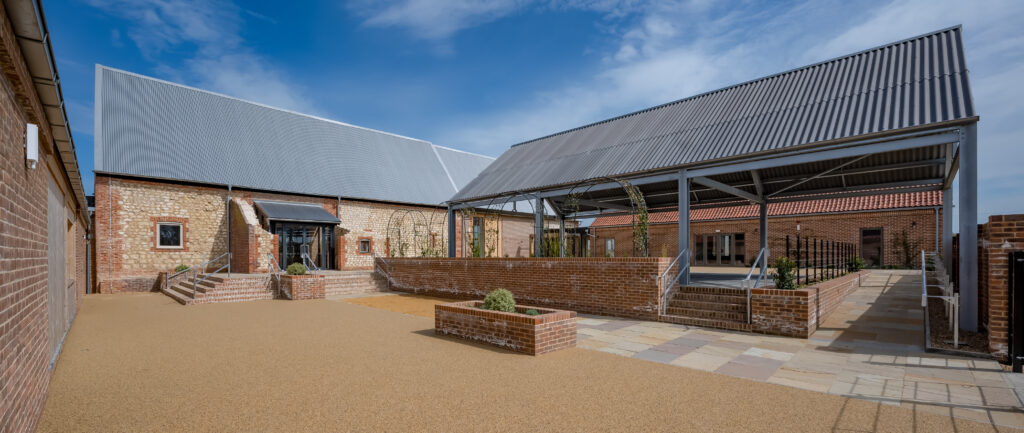 Abbey Barn, Norfolk
Abbey Barn is a wedding events venue nestled in the heart of Barton Bendish, a village with a rich heritage. The development breathes new life into this once-derelict agricultural site, preserving its historic significance and enhancing the surrounding landscape. The remains of the medieval settlement adjacent to the site provide valuable insights into the area's past, enriching the community's understanding of its origins.
This sympathetic development showcases a blend of heritage and modernity while respecting the local vernacular and historic charm. The main barn has been renovated, preserving its double-height space and exposed masonry and chalk block walks. Two contemporary barn-like buildings reinstate the historical courtyard 'farmstead' arrangement creating a picturesque setting with existing trees that reflect the village's rich heritage.
To preserve the site's historic charm while embracing contemporary design, the scheme blends materials and styles. Salvaged or locally-sourced elements pay homage to craftsmanship of the past, while the 'open' canopy structure in the courtyard fuses historic and modern aesthetics. Skillful use of low-impact materials, including reclaimed brick, chalk, and flint, celebrates the region's agricultural aesthetics while embracing environmental responsibility.
Abbey Barn embodies a fabric-first approach that prioritises energy efficiency and conservation. The completed project boasts upgraded roof structures, high levels of insulation, and carefully sourced materials. Air Source Heat Pumps efficiently provide heating and cooling, resulting in an environmentally responsible venue with minimised energy demands.
Abbey Farm Barns has evolved into a dynamic multi-purpose events venue, catering to a wide range of functions. The venue can comfortably accommodate up to 120 seated guests for ceremonies, receptions, and celebrations. Abbey Farm Barns has become a community asset that preserves the area's historical significance while supporting local businesses.